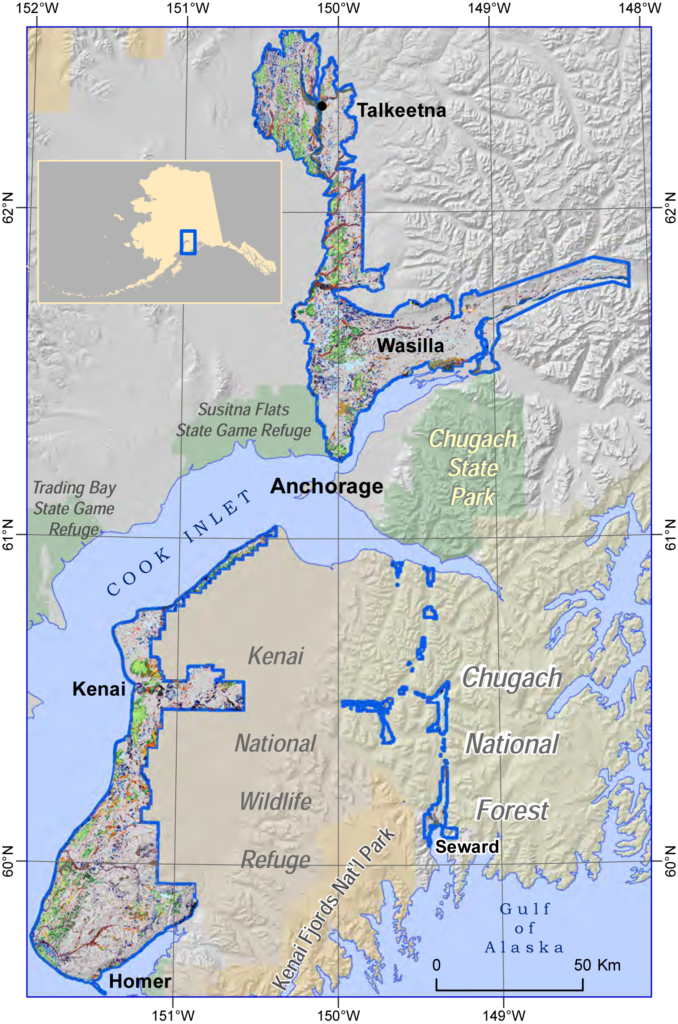 Many wetlands in the Cook Inlet lowlands, Alaska have been classified and mapped as part of a project to better understand and manage these valuable resources. Areas covered include the western Kenai Peninsula, the area around Seward, non-Chugach National Forest lands in the Kenai Mountains, and the most populous areas of the Matanuska-Susitna Valley.
You can view these maps in GoogleEarth by downloading a file (18 MB, .kmz format) or linking to it over the web [COMING SOON]. Visit Download Map Data and Literature to learn more.
In the Kenai Peninsula Borough, you can view the maps along with current land ownership information at the Kenai Peninsula Borough's Geographic Information System website. Chose the Land Cover viewer, found near the bottom of the page. In the Land Cover Viewer select the 'Layers' tab in the bottom left-hand corner, then click on the box next to the title: 'KWF Wetland Assessment' layer.
GIS users can download an ESRI shapefile of the data that is zipped with supporting layer and style files, along with metadata and more information.
The classification and mapping is supported by extensive data collected in the field. The data include measurements of water chemistry, soil properties, hydrology, and plant species occurence and abundance. The information is summarized in two peer-reviewed publications and a Ph.D. dissertation, along with map posters and reports. Visit the links to the left to learn more about the project and wetlands in general.