The Kenai Watershed Forum encourages a diverse board of directors to represent the myriad of interests in our geographic region. It is our goal to have balanced representation from economic development, environmental interests and fisheries user groups (sport, commercial and subsistence) without designated board seats. This balance along with the use of consensus-based decision making makes our organization unique, allowing us to earn the respect of the communities we work in while working together for healthy watersheds on the Kenai Peninsula.
We invite you to meet our board of directors:
Matt Pyhala- President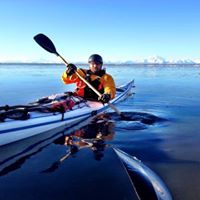 Matthew Pyhala, D.C. has served on the Board of Director of the Kenai Watershed Forum since 2012. Dr. Pyhala is a life-long Alaskan and grew up on the Kenai Peninsula, in Anchor Point. He is the grandson of Earl and Margarite Johnson, Anchor Point homesteaders. Matthew grew up on the homestead overlooking the North Fork of the Anchor River. His youth was spent traversing the banks fishing for Rainbow Trout and Dolly Varden and exploring the rich watershed below his home. He commercial fished on the family set gillnet sites on Kalgin Island, then drift gillnet in Cook Inlet and Bristol Bay along with halibut longline fishing. He graduated from Homer High School in 1993, then attended Gonzaga University, earning a Bachelor of Science in Exercise Science in 1997. Following his undergraduate studies, he enrolled at Western States Chiropractic College, earning his Doctor of Chiropractic in 2001. Immediately following graduation from chiropractic college, he returned to the Kenai Peninsula where he has since lived and practiced as a chiropractic physician. Dr. Pyhala has served on several boards for various nonprofit organizations. He is an active Rotarian with the Rotary Club of Soldotna. He is an avid sea kayaker and holds a level 4 Coastal Kayak Instructor certification through the American Canoe Association. He and his wife, Sarah, own and operate a small paddling instruction company, Immersion Paddling Academy, LLC, focusing on safe paddling and skill progression. Matthew has two children, Moira and Tabor. Moira is a recent UAA graduate and now lives and works in Anchorage. Matthew, Sarah, and Tabor live in Kenai near the river mouth. Matthew is happiest when he's outdoors experiencing nature.
Dr. David Wartinbee – Secretary/Treasurer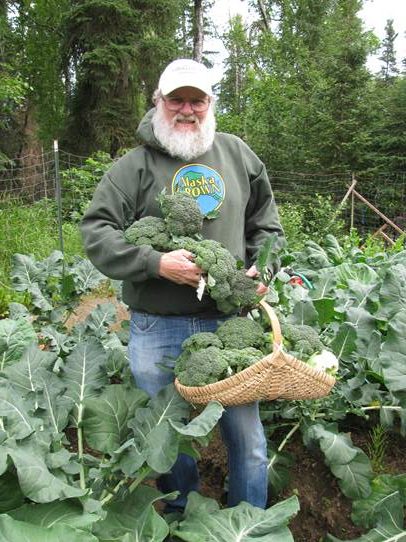 At age nineteen, David was teaching metal working skills as a Peace Corps Volunteer in the western African country of Senegal. Returning to Pennsylvania and continuing his schooling, he studied Biology. David received a BA and a MS in Biology from Clarion University in Pennsylvania. Moving on to the University of Pittsburgh, he earned a PhD in Biology. David became a Professor of Biology for 22 years at East Stroudsburg University in PA. Along the way he earned a JD degree from Cooley Law School in Lansing, Michigan and was admitted to the Bar in both Pennsylvania and Alaska. David and his wife Kathleen moved to Kenai Peninsula in 1997 where he had been doing research on aquatic insects of Alaska. He discovered several new species of midges and identified the Chironomidae (midges) found in the Kenai River. The University of Alaska Anchorage, Kenai Peninsula College, hired him as a Professor of Biology and he taught there for 18 years before finally retiring from another job that he loved. David has been an active volunteer his entire life, serving as a volunteer EMT and Paramedic for 17 years and a volunteer National Ski Patrol member for 30 years. In Alaska, he has been very active volunteering for the Tustumena-200 and the Iditarod Sled Dog Races as well as helping on a variety of Rotary Club projects. His continual pastimes are flying his airplane, riding a snowmobile, camping, hiking, gardening, and fishing anywhere there are fish. He became a board member of the Kenai Watershed Forum in 1998 and has enjoyed guiding and supporting the services provided by KWF.
Terri Carter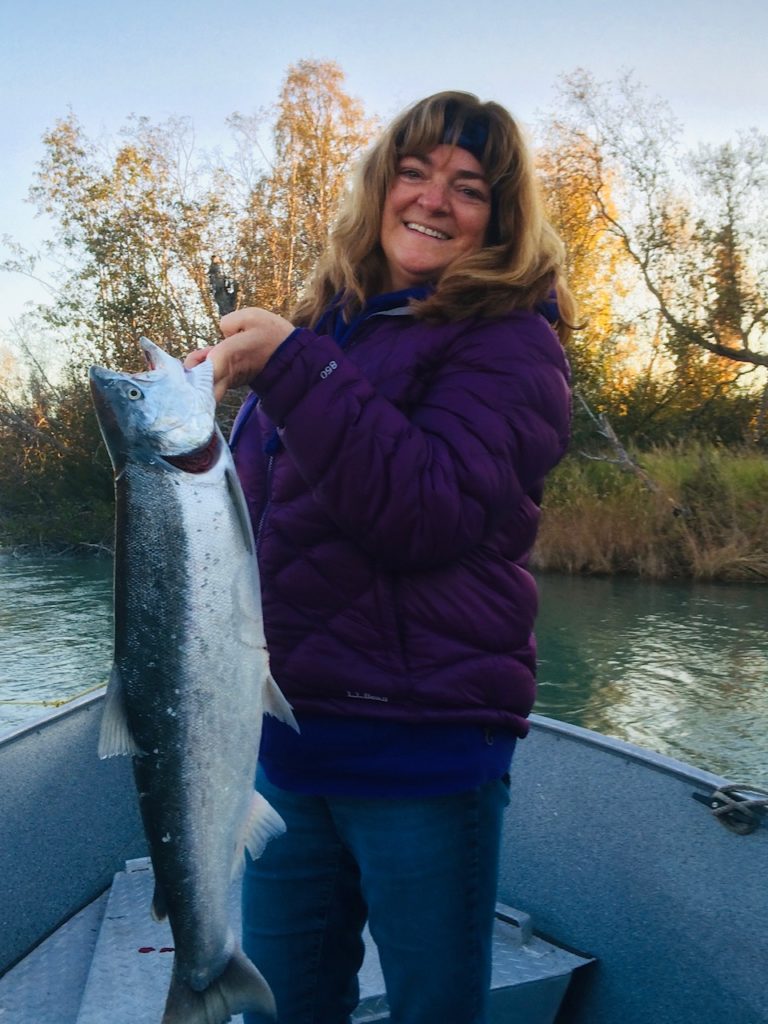 The Kenai River was the background for most of Terri's childhood experiences. It is the ribbon that laces her memories together. Born in Soldotna and raised in a cabin her family built on the banks of the river, she personally witnessed the impacts of development and increased use and is compelled to be involved in advocating for the health of the river rather than any specific user group. She has served 6 years on the Kenai River Special Management Advisory Board and now serves on the board for the Kenai Watershed Forum. Terri has a master's degree in Elementary Education Curriculum Integration and is in her 23rd year of teaching for the Kenai Peninsula School District. Every year she takes her class rafting on the river as they study the science of the watershed, history of its people, and the life cycle of the salmon. She wants to encourage the next generation to love the river and empower them to protect it.
Dave Atcheson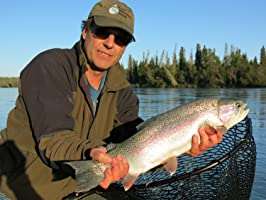 Dave Atcheson recently retired from the University of Alaska. He has written for a variety of periodicals, from Outdoor Life to Boy's Life, and his latest book is Dead Reckoning, Navigating a Life on the Last Frontier, Courting Tragedy on its High Seas, a memoir on his days as a commercial fisherman. He is also an avid fly fisher, teaches fly fishing at Kenai Peninsula College, and is the author of the guidebook Fishing Alaska's Kenai Peninsula, as well as National Geographic's Hidden Alaska, Bristol Bay and Beyond. He currently makes his home in Sterling, Alaska.
Sammy Crawford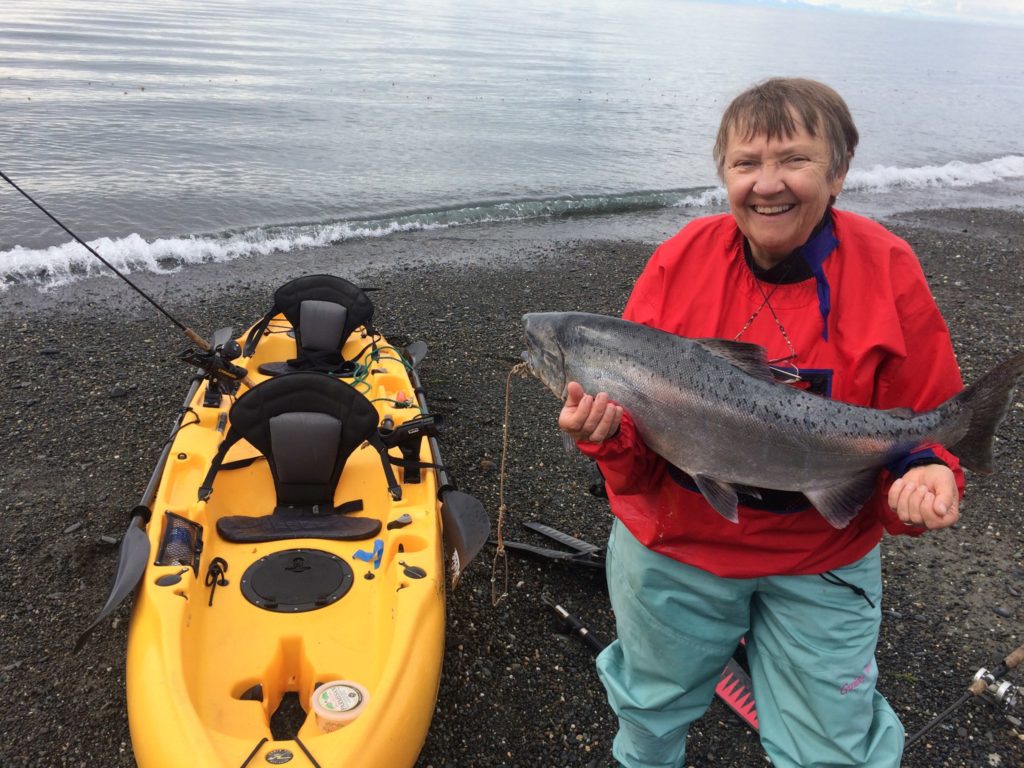 Lorraine "Sammy" Crawford came to Alaska in 1968 after receiving her B.S. and M.A. from the University of Nebraska. She taught in central Kenai schools and was honored to be selected as Teacher of the Year. She's been a community activist and volunteer to many organizations including League of Women Voters, Kenai Peninsula School Board, Caring for the Kenai, Performing Arts Society, Soldotna Rotary Club, Kenai Community Library, KDLL Public Radio, Tsalteshi Trails, Women's Investment Club, and a member for 30+ years in her local book club. She has traveled to nearly 100 countries and plans to visit more. She's always had a great deal of respect for the environment and this amazing place on the planet where we live. She's eager to work with the Kenai Watershed Forum board and continue their important and challenging work.
Gary Turner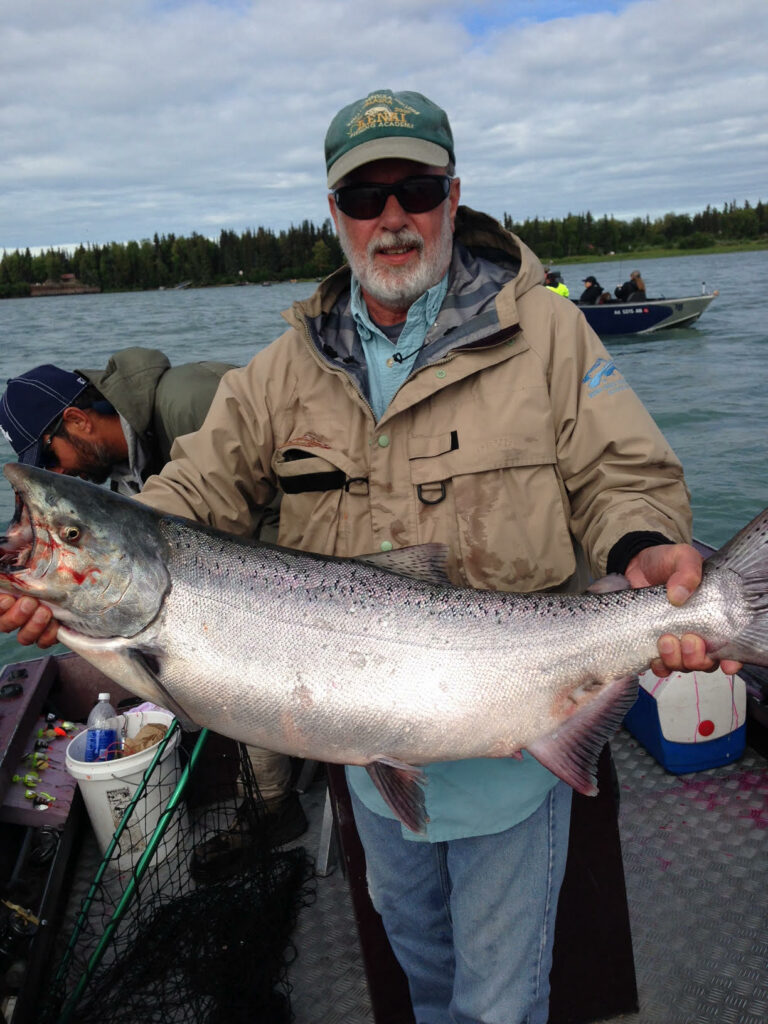 Gary has lived in Alaska for 26 years, with three years in Fairbanks, two in Ketchikan and 21 in Soldotna. He presently lives on the Kenai River and participated in the 50-50 Cost Share program with the Kenai River Center to stabilize his riverbank and install light penetrating walkways. Gary received his master's degree in mass communication and pursued PhD. coursework in human communication at Denver University. Gray Joined the Air-Force and retired in 1994, then served as the continuing education coordinator, and communication instructor at the University of Alaska Southeast-Ketchikan Campus. He then became a NASA public affairs program manager at Marshal Space Flight Center in Alabama. In June 2002, Gary was hired as the director/CEO of Kenai Peninsula College. He retired in July 2021 as the longest-serving director in KPC's history and was named Emeritus Director. Gary co-founded the Kenai River Guide Academy, founded the Kenai Fishing Academy, and resided as a board member for the Kenai River Sportfishing Association for 11 years. Gary served on the Alaska Select Committee for Legislative Ethics from 2006-17, and was named the 2012 Soldotna Chamber of Commerce Person of the Year. He is a member of the American Legion, VFW and the Air Force Public Affairs Alumni Association. He is married and enjoys spending time with his son and grandsons, and watching them play hockey and fish.