Make a Difference!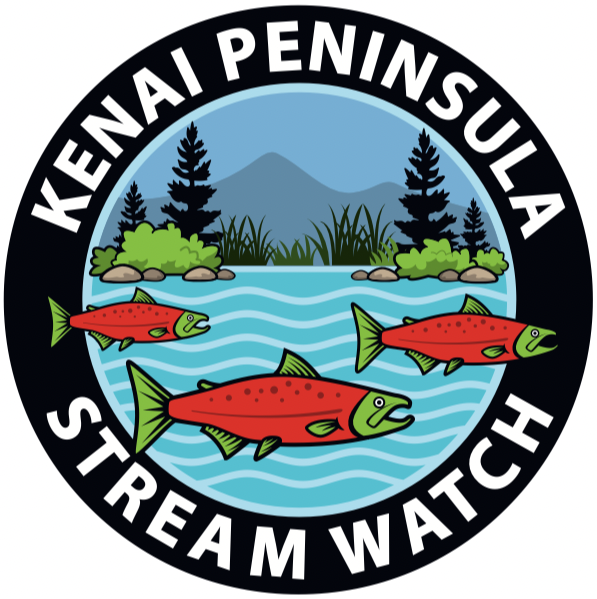 Started in 1994 by a group of anglers who wanted to protect salmon habitat on the Kenai Peninsula, this award winning volunteer program is for those who want to be outdoors, make a difference, have fun, and create a healthy home for wild salmon.
Stream Watch volunteers receive training, uniforms, supplies, and even access to free campsites in return for their service. Volunteers educate the public on river stewardship and complete hands-on river restoration projects on the salmon rivers of the Kenai Peninsula.
Be the change! With volunteer opportunities everyday from June through September, there are possibilities for everyone with Stream Watch.

Apply To Become a Volunteer Today
Ambassadors
Ambassadors are everyday people making an extraordinary difference!
Stream Watch Ambassadors are outfitted with the knowledge and supplies to walk local rivers sharing information and enthusiasm to protect them. Stream Watch staff provide training, supplies, and on-going support for Ambassadors, who are the heart and soul of Stream Watch's ongoing success protecting the rivers of the Kenai Peninsula. Ambassadors participate in a pre-season orientation and commit to a minimum of 24 hours on the river, June through September.
Not from the area? Campsites are available for Ambassadors on a first come, first served basis.
See the 2023 Stream Watch Volunteer Manual.
Apply today to become a Stream Watch Ambassador!
Stream Watch Volunteer Training
The Stream Watch Volunteer Training consists of an online course followed by an on-river orientation. If you are just beginning the orientation, please read the instructions on the training page prior to registering and logging in.
Apply for the Stream Watch Invasive Species Task Force
Stewardship Days
Are you part of a group that would like to volunteer for a day of service with Stream Watch?
Throughout the summer, individuals and groups of all ages and interests make a difference through single day stewardship projects, including:
River clean-up
Recycle fishing line
Remove fish barriers
Mend fencing
Use trees to stop erosion
Other protection efforts
Spend a few hours making a huge impact on local rivers. Training and supplies are provided for a great day in the great outdoors. This opportunity is great for individuals, families, scout groups, clubs and businesses.
Internships
Interns for the Stream Watch Program have been funded through the Alaska Conservation Foundation and the National Forest Foundation.
View the job description and apply directly through the KWF website by visiting the Internship Page.
For more information on becoming a Stream Watch intern through the Alaska Conservation Foundation internship, visit their website.
Interactive Stream Watch Site Map
Questions? Contact a Coordinator today at 907-398-4304 or streamwatch@kenaiwatershed.org
To learn more about the people of Stream Watch or for Ambassadors to access the volunteer calendar, visit the Stream Watch website.
To see an additional map of our fishing line recycling locations and stream habitat fencing areas, see our field map.
Stream Watch Partners
Stream Watch relies on support from dedicated volunteers and from these program partners:
Kenai Watershed Forum
Alaska Conservation Foundation
Alaska Department of Natural Resources
Alaska Recreational Management
Alaska State Parks
City of Kenai
City of Soldotna
US Forest Service
ConocoPhillips
Kenai Peninsula Fish Habitat Partnership
National Forest Foundation
Pacific States Marine Fisheries Commission
U.S. Fish & Wildlife Service