What is "Kenai Mountains to Sea"?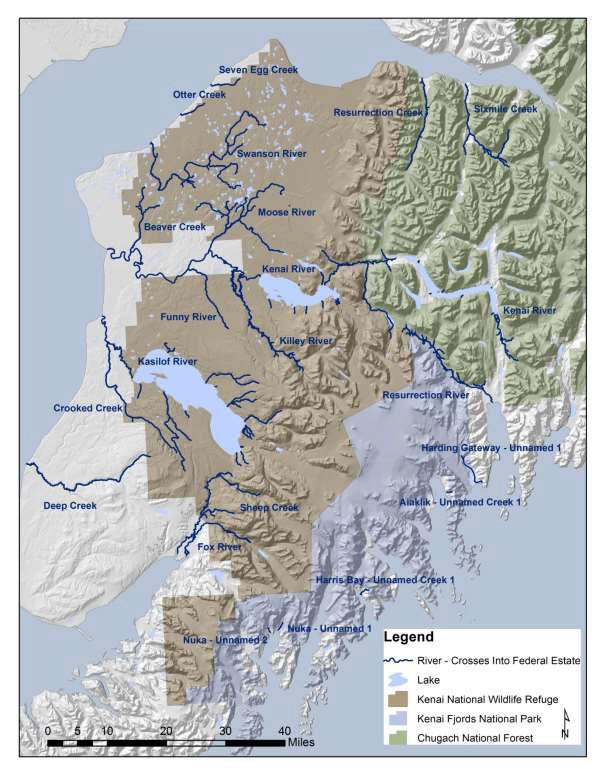 Kenai Mountains to Sea is a partnership of local agencies and organizations that formed out of concern for our rapidly changing Kenai Peninsula. While nearly three-fourths of the peninsula is managed within three federal conservation units, the partnership identified the need for a peninsula-wide land conservation strategy to sustain our way of life by promoting natural resource based community assets. This initiative leverages existing land conservation by focusing on the 20 inter-jurisdictional anadromous stream corridors that pass from federal conservation estate through non-federal lands to reach the sea. While working with willing private and public landowners, the partnership aims to utilize tools such as easements, land acquisitions, and stream bank restoration. the project also employs unconventional methods including development of green space for recreational purposes and local option zoning to patch together disparate parcels, thereby creating a continuous corridor running from mountains to sea.
Kenai Mountains to Sea: Strategic Plan
Focus Areas
The partnership has chosen to focus its collaborative efforts on the 20 inter-jurisdictional stream corridors found on the peninsula. In other words, headwaters of the streams within the corridors under consideration begin under protection on federal lands, flowing through non-federal lands to the sea. In total, these streams represent 771 miles (or 43%) of stream miles peninsula-wide.
Aialik Bay
Beaver Creek
Crooked Creek
Deep Creek (North Fork)
Fox River
Funny River
Harding-Gateway: Bear Glacier Creek
Harris Bay: Paguna Creek
Kasilof River
Kenai River
Killey River
Moose River
Nuka Bay: Ferrum Creek, Unnamed Creeks 1-2
Otter Creek
Resurrection Creek
Resurrection River
Seven Egg Creek
Sheep Creek
Sixmile Creek
Swanson River
Contact
Have a parcel in mind, or just want to learn more about Kenai Mountains to Sea? Contact us here.