Project Details

Where:
Latitude 60.720 Longitude -151.161
Nikiski, AK

When: Spring/Summer 2008

Cost: Estimated $75,000+

Who: Kenai Watershed Forum,  NOAA, Tesoro, US Fish and Wildlife Service
The culvert at this crossing had been so badly crushed that parts of it were sticking up through the road surface and it was too narrow compared to the normal width of the stream. To avoid the jagged culvert, drivers were illegally trudging through the salmon stream, destroying habitat for spawning and rearing.
KWF removed the damaged culvert and installed a bridge sturdy enough for trucks to drive over.  With the help of Tesoro employees and Mike Edwards from the U.S. Fish and Wildlife Service, the stream banks destroyed by traffic were repaired with willows and coir logs. This restoration project opened over one mile of stream habitat in addition to a large lake.
Return to Restorations
FEATURED PROJECTS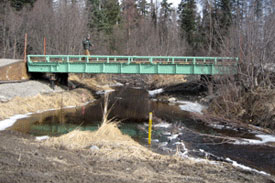 In the early fall of 2005, several hundred adult salmon returning to spawn were blocked by the culvert. KWF removed the culvert and replaced it with a bridge in Spring 2007.
Learn more about this project >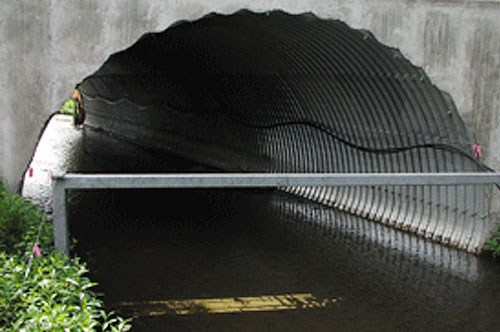 In the summer of 2003 and 2004 the Kenai Watershed Forum (KWF) more closely evaluated each of the three problem road crossings. It was clear that the College Loop Road presented the greatest potential to block juvenile anadromous fish.
Learn more about this project >