"The coolest festival
in Alaska!"–Synette
Celebrate the lifeblood of our community!
Join the Kenai Watershed Forum in celebrating the Kenai River through free, family fun at the annual Kenai River Festival.
Kenai River Festival
Soldotna Creek Park
June 10-12, 2022
Friday- 5pm-10pm
Saturday- Run for the River begins at 8 am, Festival 11am-10pm
Sunday- 11am-4pm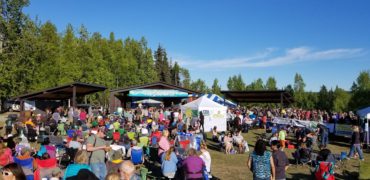 KWF Kids Zone
The KWF Kids Zone is busting with free, hands-on fun for the entire family on festival Saturday and Sunday. Learn about the river and get a chance to win an iPad!
Alaskan Artisans Market
The festival draws a wide array of Alaskan artisans from across the last frontier. Come peruse the variety of unique treasures.
Festival Food Booths
Satiate your sweet tooth or satisfy your hunger with food vendors from across the state right in the heart of the festival.
Live Music
Celebrate the glacial waters of the Kenai River through free, live music all festival weekend.
Run for the River
This combination 5K & 10 Mile event is great for all ages and abilities. The multi-turn, looped course is routed along the famous Kenai River.
Beer & Wine Garden
The Kenai River Festival Beer will open on festival Friday at 5 pm and will serve local brews all day Friday and Saturday.
Festival Recycling
We hope to turn forks into forests and cups into compost! Please discard your items into their corresponding containers to redirect our organic waste from the landfill.
The Kenai River Festival would not be possible without support from our sponsors!