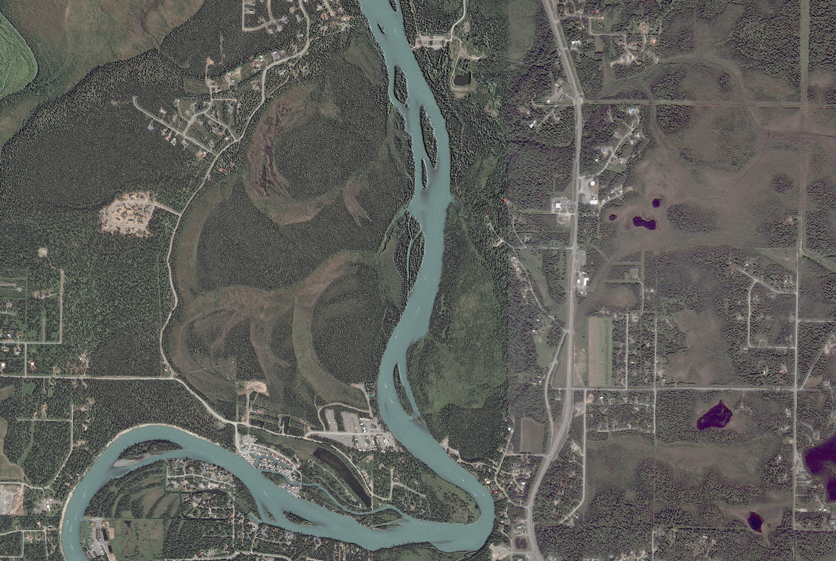 Wetlands mapped as AMT are abandoned meander terrace and channel features. The channels were active sometime after retreat of glacial ice, but before modern times. The modern channel has incised below the level of the AMT, and the AMT is no longer part of the modern floodplain. Peatlands now typically fill AMT's. The peat has built up since the channel was abandoned, and is deep enough to indicate that the modern river no longer floods these features. These now-abandoned channels and terraces probably developed when the river was larger, or during larger glacial outburst floods than presently occur. Some are probably more recent than others, but none have been reliably dated.
AMT's have only been mapped along a few reaches of eight rivers and streams: the Kenai, Kasilof, Little Susitna, Susitna, Anchor, and Fox Rivers and along Deep and Willow Creek. There are some especially well-defined meander scrolls which are now filled with peat on a terrace of the Kenai river just upstream of the Pillars, at about river mile 12.5 (see above aerial photograph).
AMT has been mapped on 165 polygons covering a total of 1398.7 hectares (3456 acres). There are no hydrologic components described for this geomorphic type.
Only a single AMT has been measured, in the upper reaches of Deep Creek (photograph below). There the water table was 15 cm below the surface on 24 July 1997, the peat was 21 cm thick and the Plant Prevalance Index was 2.91. A Barclay willow – Bluejoint plant community was found over a complex of Killey & Moose River soils.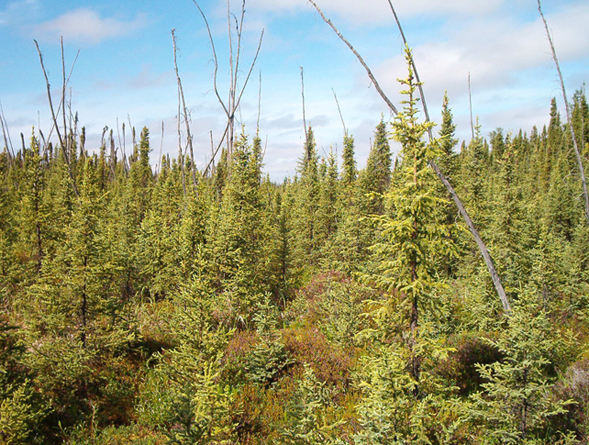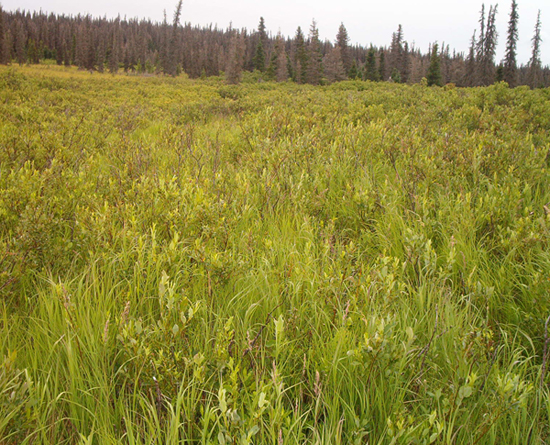 NWI and HGM
AMT fits into the US Fish and Wildlife Service's National Wetland Inventory palustrine category. These wetlands support a variety of plant dominants from herbaceous emergents (PEM) to shrubs (PSS) and forest (PFO), with hydrologic regimes ranging from saturated through permanently, semi-permanently, and seasonally flooded (PSSB, PEMH, PEMF and PEMC, respectively).
The LLWW Hydrogeomorphic classification (Tiner, 2003) would classify Abandoned Meander Terrace wetlands as Terrene Basin groundwater-dominated throughflow wetlands.