In Fall 2019, the Alaska Department of Fish and Game (ADF&G) were notified of several adult pike caught in Vogel Lake near the Northwest tip of the Kenai Peninsula. Pike are a non-native fish species of great concern in south central Alaska, as they are voracious predators of juvenile salmonids when given the opportunity (see Dunker et al 2018 for a summary). Several watersheds in the nearby Mat-Su valley have seen pike colonize and nearly take over, with local managers making herculean efforts to slow their spread.
The Kenai Peninsula has thus far managed to escape the fate of the Mat-Su valley in terms of pike invasion. Pike were found in a number lakes and creeks in the Kenai/Soldotna area in the early to mid 2000's, but were quickly contained and exterminated. In the case of Miller Creek, researchers believe that at least one or multiple pike arrived by swimming over from the Mat-Su through the Cook Inlet, likely during the Spring when high runoff levels create temporarily lowered salinity levels.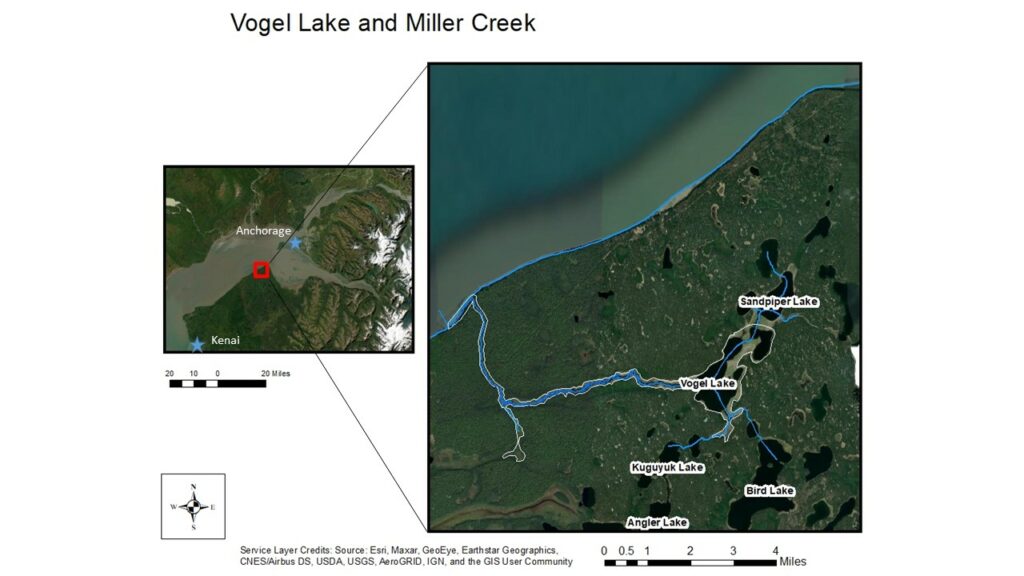 With the news that pike had arrived to Vogel Lake, local mangers reacted swiftly. Kenai Watershed Forum worked with ADF&G personnel in developing a proposed treatment plan, then applied for and received a grant from the National Fish and Wildlife Foundation to support the work. KWF took the role of addressing project water quality monitoring and mapping before, during, and after the treatment process.
As of Fall 2022, evidence indicates the project has been successful in eliminating pike from the watershed. After treatment with the chemical rotenone in Fall 2021, subsequent monitoring in Summer 2022 has failed to capture pike, and the system is repopulating with native fish from adjacent lake systems.
To access Kenai Watershed Forum's work on water quality and mapping efforts for this project, see the online report at the following link: Miller Creek and Vogel Lake Water Quality Report.
The report is best accessed in the online format linked above, but a static MS word document with the same information may be downloaded here also.
The Kenai Peninsula remains pike-free for the moment. The future of keeping it that way will depend on a combination of monitoring, research, and education. Local researchers and managers are continuing to monitor areas vulnerable to potential invasion, as well investigating salinity tolerance in pike found in south central Alaska.
One future valuable addition to prioritizing pike monitoring efforts for the Kenai Borough region would be to replicate the approach outlined by researchers who created a map of "vulnerability" to pike invasion for the Mat-Su valley (Jalbert et al. 2021). "This simple to implement, adaptable, and cost-effective framework will allow prioritizing habitats for early detection and monitoring of invading northern pike," the authors write. Such tools would be highly useful for on-the-ground biologists in our region, tasked with surveying a large and remote area for invasive pike.
As long as pike are our distant neighbors, there's the potential for them to visit again any time, and it's our responsibility to be ready.
References
Dunker, K., Sepulveda, A., Massengill, R., and Rutz, D. 2018. The Northern Pike, A Prized Native but Disastrous Invasive. In Biology and Ecology of Pike. CRC Press. pp. 356–398. https://bit.ly/3V9Wp38. [accessed 10 October 2022].
Jalbert, C.S., Falke, J.A., López, J.A., Dunker, K.J., Sepulveda, A.J., and Westley, P.A.H. 2021. Vulnerability of Pacific salmon to invasion of northern pike (Esox lucius) in Southcentral Alaska. PLoS One 16(7): e0254097.