Download or link to Google Earth Wetland map
You can view maps and information about Cook Inlet wetlands in GoogleEarth by either downloading a file or linking to it. Downloading might result in better performance because the map will be running on your computer, and not over the internet. If you have a reasonably fast internet connection, the map will work just fine by linking to it. An advantage to linking to the file is that updates will become immediately visible without having to download a new file.
Link: Download this small (<1kb) file from a shared Google Drive of the Kenai Watershed Forum. The file is a only a link to the Google Earth mapping file (.kmz). Move it from your download folder to a more convenient folder. Open Google Earth and right-click on My Places and choose Add. Choose: "Network Link", found at the bottom of the list. A window will open and ask you to name the location- type in whatever you want, "Cook Inlet Wetlands" is a good name. Below that there is a space to type in the Link and a browse button, use the button to browse to the location where you moved that the file that you downloaded above. If everything worked, the wetlands should eventually display in the Cook Inlet Lowlands of south-central Alaska.
Download: Right-(cntrl- in Mac) Click on this link, and save the .kmz file to your computer. Pick a spot that you can find later. After the file saves, Open GoogleEarth, from menu bar select File, "Add", then browse to where you saved the .kmz (CookInletWetlands.kmz).
Either: Once it loads (it may be slow with a network link), zoom to an area, wetland polygons outlined in red have photos available, click on a red polygon, and follow the "Photo" link in the table that pops up. Other useful links are "Technical", which leads you to a description of the wetland type, and "FAQ" which provides general information about wetlands, especially concerning wetland permitting. The code at the top of the table is the wetland's map unit name. A description of the map unit name is found by following the link after "DescLink". If you find any problems concerning any individual wetland, please use the "CODE" number in correspondence. Save the file to My Places if you want to have it available every time you start Google Earth (you can toggle it on or off).
[…/images/GElink.jpg]
Once the file loads, zoom to a polygon of interest, polygons outlined in red have photos associated with them. Click on the polygon and a dialog box appears: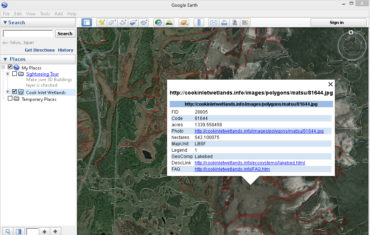 […/images/GEID2.jpg]
Click on the link next to Photo, and a picture of the polygon appears. To return to the map, click on the "<<Back to Google Earth" button (upper left):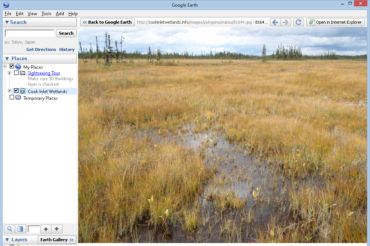 […/images/GEPolygonPhoto.jpg]