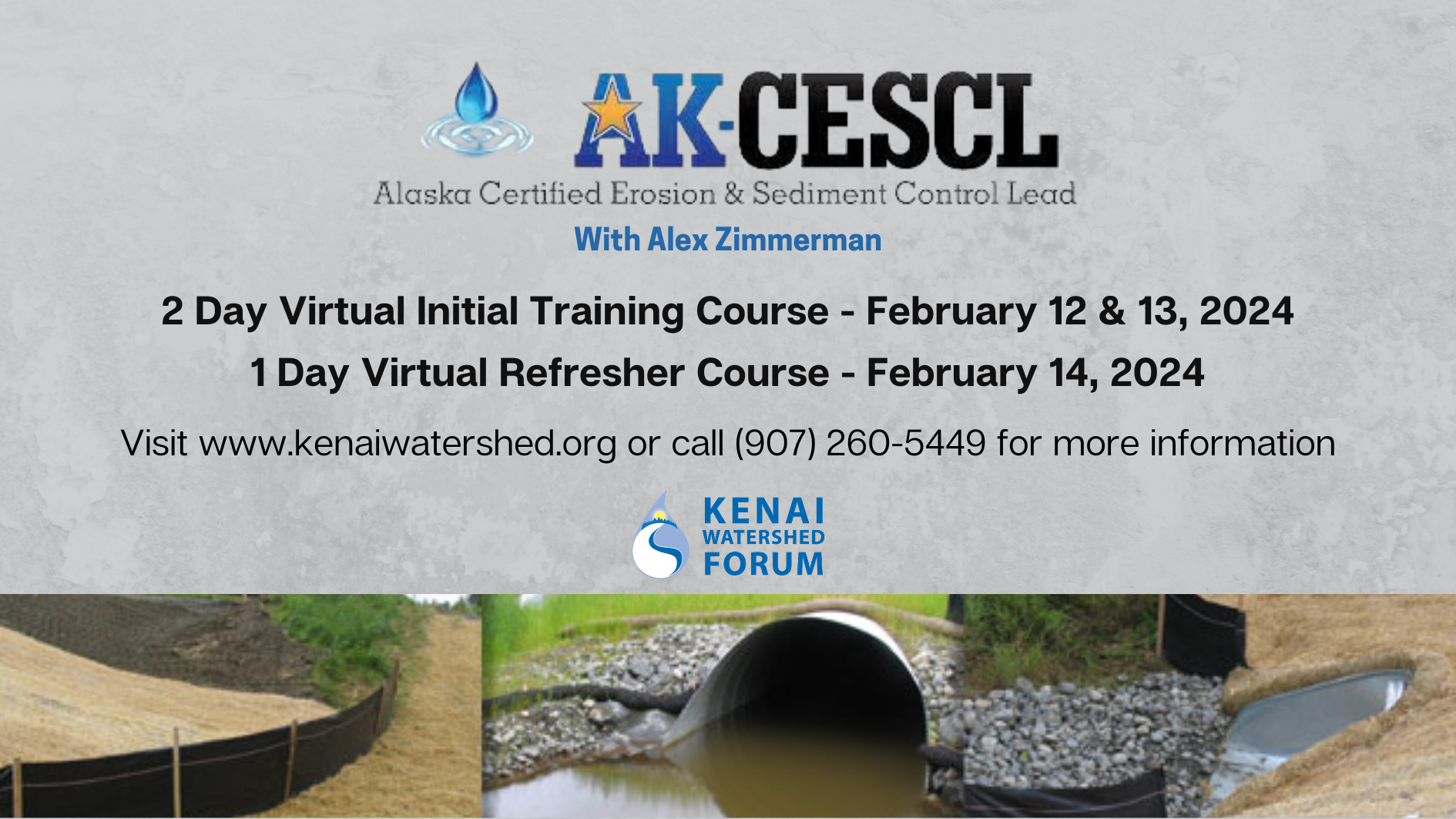 2 day CESCL Certification Training ~ $395
February 12 & 13, 2024 ~ 8:30am – 4pm (both days) Online *Zoom link will be provided
This 2 day training explains the erosion process and how to obtain and comply with the EPA NPDES Construction General Permit.  NPDES compliance is required for all projects that disturb a total of five acres or more of soil and a Certified Erosion and Sediment Control Lead-trained person is required on all USACE and ADOT&PF projects as of January 1, 2008.  The course will describe the key elements of a Stormwater Pollution Prevention Plann (SWPPP) and provide detailed instructions on how to maintain a SWPPP, and select, install and maintain stormwater Best Management Practices (BMPs).
1 day Refresher Course ~ $295
February 14, 2024  ~ 8:30am – 4pm – Online *Zoom link will be provided
A 1 day eight hour refresher course has been approved to satisfy the AK-CESCL renewal requirements.  To be eligible you must have an active AK-CESCL number and completed the two-day (16-hour) or the one-day (8-hour) refresher course within the past 3 years. (and *three months).  *The grace period is 90 calendar days from the expiration date of certification in which a certified individual is eligible to renew his or her AK-CESCL certification. During the grace period the individual is considered not certified for purposes of being a "qualified person" for purposes of permit requirements.
This course is a summary of the 2 day AK-CESCL class.
For additional information regarding CESCL, please visit the AK CESCL website.
Registration includes all course materials/fees and certification of completion.
Please contact Sara ~ sara@kenaiwatershed.org if you have registration issues.